Leggings are in high demand because they add youthfulness to the look and slimness to the figure. Leggings with stirrups – a tape sewn to the lower edge of the legs – provide extra comfort and convenience. The models' main advantage is their ability to keep the trousers in place and prevent them from pulling up when moving or walking.
Stirrup Leggings are a very stylish and fashionable garment that fits perfectly into a variety of outfits. At the same time, it is very important to learn how to combine it with other clothes.
Features
Leggings perform many functions and primarily flattering the female figure, visually adding elegance and grace to the external appearance. Adding to this, they help to sculpt the buttocks, abdomen, and waist by visually reducing their volume. Leggings with foot holes allow you to perform exercises of any complexity, do yoga, Pilates, aerobics, fitness, or gymnastics.
Due to the fact that these tight-fitting trousers are perfectly permeable to moisture, they provide excellent air circulation and maximum wearing comfort. They are therefore less likely to cause physical fatigue.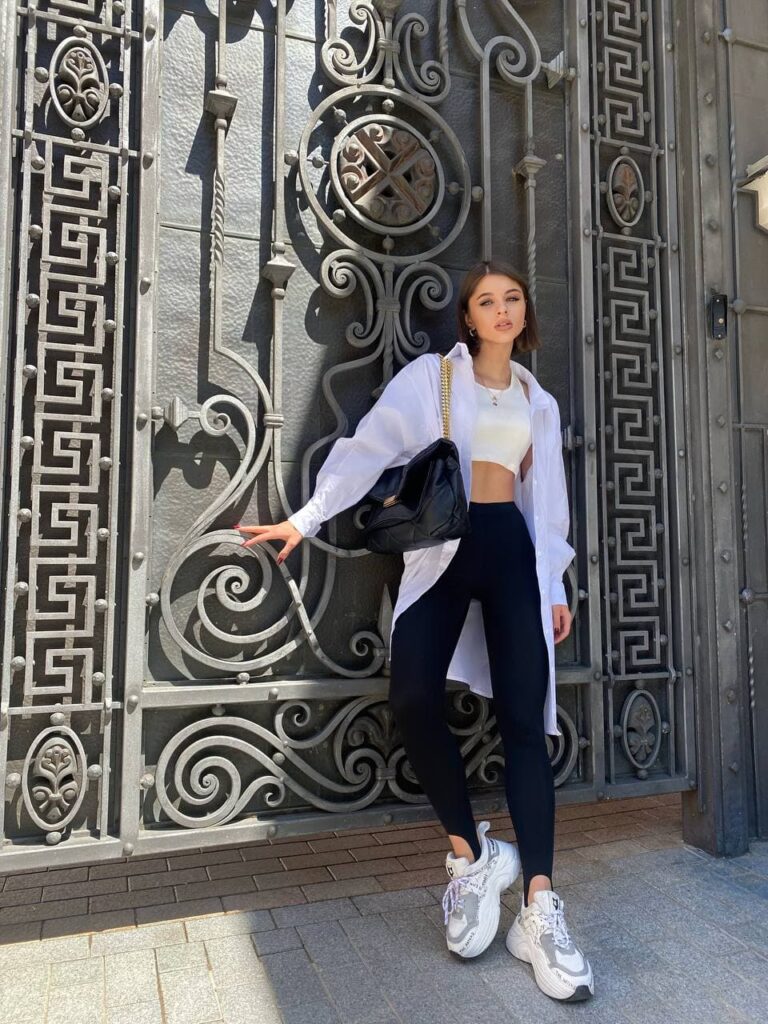 A stripe is a loop that is sewn to the bottom of the leg. A foot is threaded into it. Sometimes strips are created by imitation. To do this, special rubber bands equipped with latches are attached to each side. Such stirrup pant can be worn not only in the traditional way but also to be worn over the shoe. This is more suitable for ankle boots and boats. If you plan to wear flat-soled shoes, tuck the strips inward.
Materials
Thick tight stirrup leggings are worn for sports or morning jogging in cold weather. They're made of cotton and synthetic fibers. Warm models made of plush or fleece provide reliable protection from the cold, do not impede movement, and are simple to use. A small amount of lycra, nylon, and elastane extends the life of the products by adding strength and elasticity. Because the strap is made of silicone, nylon, or polyester, the accessory is extremely soft and elastic.
During the autumn and spring seasons, leggings made of 100% polyester lie perfectly on the figure and taking the body shape. Summer denim and elastane models do not cause discomfort or sweating, therefore they are widely used for walking and sports. Stretch leggings with a stirrup hem are a great choice for workouts and yoga at fitness centers and sports clubs. Jersey knitted leggings with heel strap are popular at discos and clubs.
Types
An important advantage of leggings is that they fit the figure well, do not slip or stretch. Leggings with stirrups and embossed seams are very popular. Connecting seams have a decorative purpose and are used for sewing various details – pockets, appliqués, leather inserts.
A wide elastic waistband inside perfectly tightens the waist and creates the effect of a graceful figure. High-waisted models visually reduce the body volume and perform a corrective function. The low rise allows slender girls to demonstrate a thin waist, toned buttocks, and belly. Pregnant women prefer types with a bandage over the belly for more comfort.
Classic Stirrup Leggings
Means leggings with approximately 0.5-2 inches wide stirrups that are sewn from its sided bottom, usually from ankle length, making a hole for feet.
Big Wholes Mid-Calf Stirrup Legging
It's stirrup design has long wide stirrups started from left and right side each of the mid-calf length than lie down to cover the feet. A tiny detail on the foot is crucial because it turns ordinary leggings into an ultra-stylish wardrobe item for fashionistas.
Yoga Pants with Heel Covers
These yoga pants have super wide stirrups that cover a lot of feet reversely said it looks like footed tight pants with holes for toes and heel. Wide feet coverage protects your ankles, keeps the pants in place, and holds your pose.
Front Foot Stirrup Leggings
Front Foot Stirrup Leggings for women are fashionable leggings with front foot stirrups. Nope, it is not flip-flop look this is high-end fashion leggings. These Front Foot Stirrup Leggings are perfect to wear with your favorite pair of heels. You'll be surprised how comfortable they feel and that they may even become your new favorite pair of leggings.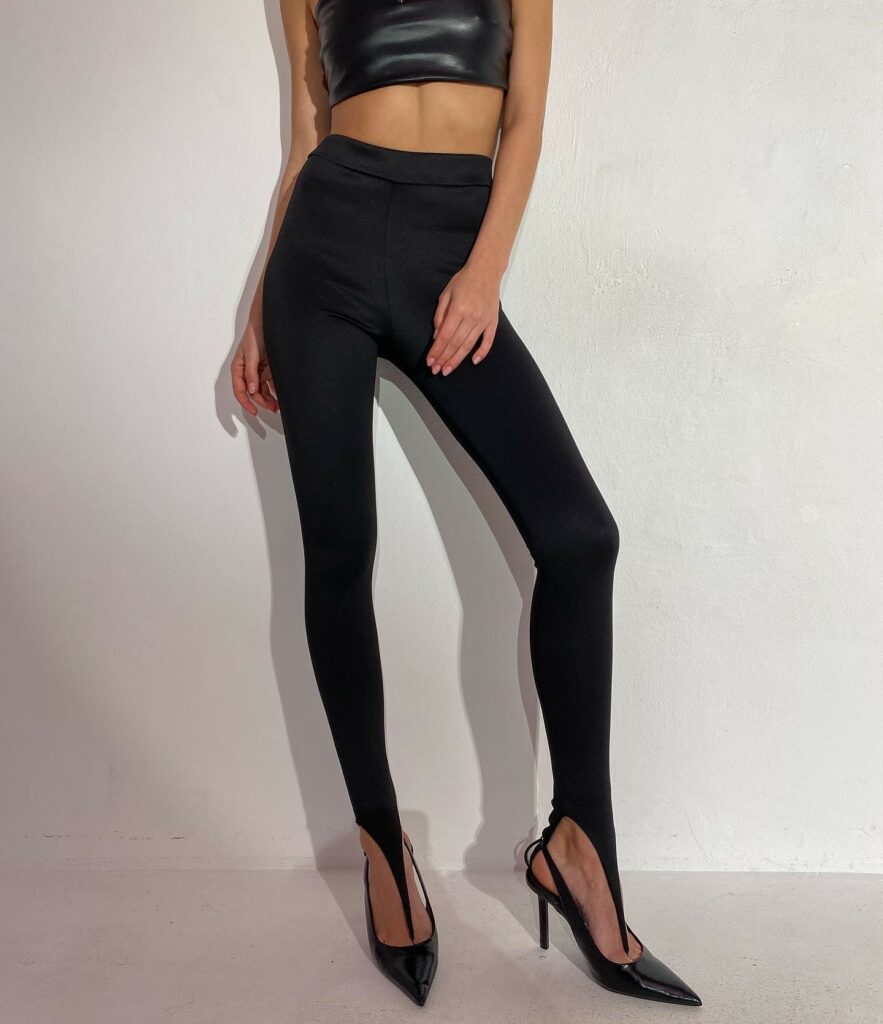 Colors and Patterns
A wide range of leggings allows you to choose the perfect piece that will highlight your personality and the best aspects of your appearance. Young people choose trousers with fantasy patterns, animation, landscapes, geometric shapes. Women over 35 prefer monochromatic products in restrained colors.
Products with leopard or tiger prints will allow you to create exotic ensembles. Romantic looks can be easily created with stirrup leggings in neutral tones – white and black leggings with combined inserts. Get your summer wardrobe ready with bright Heel Strap Leggings in blue, turquoise, yellow, coral, and pink. When the sun starts going down and winter comes around, switch to blue, black, or brown. Floral stirrup leggings are perfect for summer walks in the park, and in plain colors, they're perfect for cultural events.
How to Style Stir Up Leggings
Stirrup Leggings are still the leggings so you can combine them with dresses or tunics. Depending on where you are going, you need to select particular clothing items. You can wear wardrobe staple pants with stirrups and a tank top, top, or T-shirt for your workout. It is appropriate to attend a get-together or a friendly party in a set that includes leggings and a tunic. For a walk, you can wear bright leopard-print leggings paired with a black cardigan, brown sweater, or yellow asymmetrical T-shirt.
How and with what to wear leggings with strips? The sporty look of heel strap pants allows you to combine them with knitwear T-shirts, nylon crop tops, cotton Breton long sleeves, sleeveless acrylic fabric T-shirts. It's not hard to find a way to wear leggings. They're comfortable and practical and look great with dresses, tunics, jumpers, blouses, sweaters of medium length.
Shoes and accesories
According to fashion stylists, the most profitable partnership of leggings with stripes is wearing bright sling back pumps, which will draw attention to the edge of the pants and to the strip itself, without leaving this bold detail of the image unnoticed. It is worth noting that leggings with stripes lengthen the legs if you mix them with pumps on the heels.
What shoes do orthopedists recommend for young girls and older women? First of all, these should be ergonomic shoe samples with a comfortable last, a soft elastic insole, and an optimal heel height. A youth chooses stylish ankle boots, stiletto heels, lace boots. Women over 35 are appealed by tractor-soled boots, closed lace-up shoes, ballet flats, or loafers. Slip-ons, oxfords, and sneakers are considered very comfortable and practical. For sports, walking, and shopping, you can use sneakers, moccasins, or sneakers.
Shoes and accessories significantly influence the outfit style and edgy look. A watch, a rectangular bag, and a gadget will help you create a business look. For a walk, you can wear gloves, a fashionable hat, a scarf or a neckcloth. For a beach, you will need sunglasses and a baseball cap. Beautiful earrings will add luxury and charm to your look, and an exquisite bracelet can become the main accent of style and feminine personality.
FAQ
What are stirrup leggings used for?
Stirrup leggings first appeared in the XIX-XX centuries as an element of a jockey's uniform. Half a century later, leggings with stirrups stormed the most prestigious ski resorts.
20 years later, leggings have won the love of aerobics, and two decades later appeared in such famous designers as Demna Gvasalia, Donatella Versace, Stella McCartney, and others. Leggings with heel straps were at the peak of popularity in 2016, so understand when they would return to fashion (2021) was only a matter of time.
What are stirrup leggings?
Stirrup leggings are leggings with tape sewn to the bottom edge of the trouser-legs that keep legging in one position and prevent them from pulling up when moving or walking.
How to wear stirrup leggings?
There are two styling options: tuck the strips inside the shoes, or pull over. However, combining leggings with flat shoes, it is still better to tuck it inside, and in the case of being on high heels – pull over.
What to wear with stirrup leggings?
Feel free to wear iconic stirrup leggings to high-heeled shoes, sneakers, brogues, loafers with massive soles, as well as classic ballet flats, which are back in fashion too. The main rule to remember: if you wear a tight bottom, then the top should be bulky clothes: a masculine jacket, a shirt from the men's wardrobe, a loose bomber jacket, or a hoodie.
Are stirrup pants in style?
Sure. Prolonged quarantine has unconditionally affected the fashion industry. Many brands have refocused on sports aesthetics, and street style influencers have begun to prefer comfortable and practical things, among which Stirrup Leggings stand out – the same tracksuit bottoms that we wore as children. Now, these leggings have become a favorite thing in the wardrobe of fashionistas, replacing basic jeans and pants.