Moto leggings are one of the latest fashion trends sweeping through women's fashion. Traditionally, moto leggings were just for men. However, in recent years, they have become popular with the ladies due to their edginess and uniqueness.
Moto leggings are trendy fashion leggings with textured moto seam details – pleats that give a biker vibe. Please, don't confuse with true motorcycle pants. This moto design brings a touch of edginess to your daily leggings and makes you feel a little fancier.
There are so many types and styles of moto leggings on the market, however, that it can be hard to pick which one to put in your shopping cart.
Fabric
Fabric is a huge factor when it comes to style, comfort, and skin feel. While faux leather moto leggings are still reigning supreme, they aren't the only ones.
Moto Version Leggings fabric include:
faux leather
cotton blend
nylon
Faux Leather Moto Leggings
Faux leather moto leggings are the perfect way to spice up your wardrobe! They are so comfortable and will instantly transform any outfit into a cool biker chick look. The best part is, you can wear them for any occasion – work out, errands, going out with friends, etc.
Spanx Moto Leggings
Here we need to mention popular Spanx Moto Leggings that look like faux leather, however, are made of 87% nylon and 13% spandex.
SPANX leggings are designed to contour your curves for a sleek, sexy look. These faux leather leggings have a wide, shaping waistband and are composed of slick, subtly crackled leather that's smooth on the skin and easily holds iconic SPANX detailing.
Customers note the Pros:
they are very snug
no muffin top at all,
great for tall girls, also, Spanx faux leather legging offers a petite length too, carefully look for petite moto leggings
very comfortable and stretchy
Adding to this list some of the ladies said that they are worth the price and hype, however, another part said that Spanx leather leggings are a waste and not worth it applying the following Cons:
very expensive
buy with caution they often run small
don't last long, material coming apart, leather is wearing off
ugly knee area
Custom Vegan Leather Moto Pants
If you are looking further you can pay attention to Vegan Leather Moto Style Pants from FloAtelier on Etsy.
A wardrobe staple that pairs well with bomber jackets and over-sized sweaters, their faux leather skinny pants are an iconic style that will transcend seasons. The biker-style pants are the perfect addition to your everyday life.
Tired of looking for the right pair because most of them do not fit right or they fall down? You will be thrilled because despite sizing these no-pocket stretch black leggings could be custom-made for you true to your measurements and simply will become your favorite pair.
Genuine Lambskin Biker Trousers
Fans of genuine leather see – Genuine Lambskin Biker Trousers from london3yestoregifts. Soft, well-made, from real lambskin these leather biker leggings are your fancy gorgeous pants.
Cotton Blend Moto Leggings
Spandex/cotton blend ensures a comfy fit. Pair your favorite bodysuit, tank, or tee with this comfy stretch cotton moto leggings with stitched knee panels. Specially designed to give you a flattering fit and a flexible feel for everyday wear, they're also the perfect addition to your athleisure look.
HUE Women's Fashion Cotton Leggings
Chic women's leggings in HUE Cotton Moto Leggings are highly affordable and fashion-forward. These women's leggings with a comfortable waistband and flattering fit will make you look amazing while keeping you feeling great.
Nylon Moto Leggings
Nylon Leggings are great as a workout and yoga leggings. The nylon fabric is light and durable so it will stay in great condition for a long time to come. Sometimes could come with some strategic mesh panels to help keep things cool and air circulating during those sweaty workouts.
Alo Yoga Moto Leggings
The Alo Yoga Moto Legging will be your go-to pants for a variety of yoga classes. Super-comfortable Alo yoga leggings feature a contouring fit that wraps your body in softness. Forward mesh panels ensure natural movements, while the mixed matte and shine fabric provide a rich look.
Built for movement with its high waist lifting fit ankle hem, and elastic waistband that stays in place. The expert verdict is that Alo Leggings "strikes a great balance between breathability and compression". Customers really liked Alo high rise leggings and with the great color variety, you could choose from nearly 13 of them on the official Alo website.
Maternity Moto Leggings
When you are pregnant you want to feel comfortable and have a stylish outfit for the occasion. One thing that you can't overlook is your leggings. This means that you can look great while feeling comfortable and stylish. Maternity motorcycle leggings didn't look like your everyday legging. These leggings with trendy moto details are perfect for the occasion because they highlight your bump in the most flattering way plus a fabulous look. You can wear over-the-belly maternity moto leggings with a tank top, shirt, sweater, tunic, etc.
Women's Moto Jeggings
Moto Jeggings are a combination of classic jeans with the lighter tough feel and look of biker jeans. They usually have real back pockets but on the front fake stitching pockets. The result is an ultra-stylish, comfy and trendy piece that can be worn for virtually any occasion.
Plus Size Moto Jeggings
NIKIBIKI Women Premium Vintage Moto Jeggings are the complete pair of jeggings you need for showing off your body! They are available in all sizes and you can be sure that they will flatter your figure and bring out the best in you! Don't hide behind "sweat pants" when you can flaunt your curves in a way that makes chubby girls feel comfortable!
Popular Colors
Black Moto Leggings
Black Moto Pants are a hot fashion item for women that look like army style.
Gray Moto Leggings
Women gray moto leggings with a high waist, and tummy control with front flat seam design, provide a sleek and slim look. The breathable fabric and double waistband build the whole shapewear pant in one layer.
Maroon Moto Leggings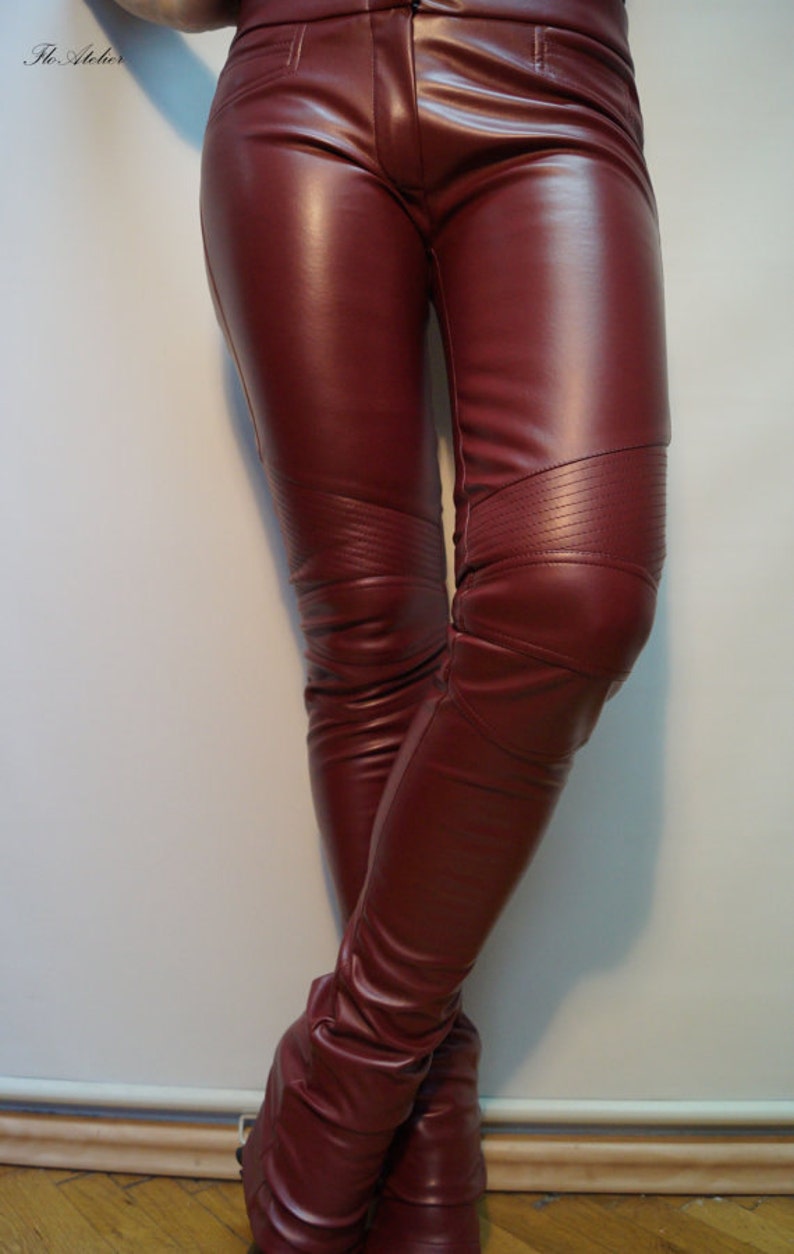 These gorgeous maroon leggings will look great on you. The soft material makes them a pleasure to wear and gives you a comfy, second-skin feel.
There are so many different suits and types to pick from that you're bound to find a pair (or two) of women's moto pants that you need. Explore different kinds of leggings with our ultimate leggings guide.
FAQs
Still have questions about moto leggings outfit? Find the answers here!
What does moto leggings mean?
Moto leggings are made after the fashion of classic motorcycle pants with added moto seam details in various places: along the sides, in the front (under the knee and/or below), on the back, on the pockets. The textured moto seam – pleats and/or folds that give a biker vibe.
What can you wear with moto leggings?
Moto-inspired leggings have been a clear fashion trend, so here are ideas that would best suit your moto outfit. Pair moto leggings with a white or graphic tee and add a moto, denim, or bomber jacket to the best look. Also ankle boots, wedge sneakers, and white sneakers are go-to shoes. For warmth and cozyness apply an oversized sweater, cardigan, and/or camel coat with ankle or knee-high boots.
Are moto pants in style?
Moto pants are definitely in fashion. Contemporary women's fashion has embraced the moto trend. They are a popular style of jeans that were originally designed with a more masculine audience in mind. Often, these jeans come with pockets and designs on the thighs that give off the look of armor or protective gear. However, if you do not like the extra rocker look to your jeans, you can tone down moto pants and wear them just like any other pair of jeans. What started out with protective jackets soon reached motorcycle pants and then evolved into the latest fashion trend in leggings – moto leggings for women.